A structured, intensive long term course ideal for students wanting to improve their level of English
Your Academic Year Course at ESE

If you need to improve your overall level of English across all the core language skills (listening, speaking, reading and writing) for career or study purposes, the Academic Year Course (AYC 30) gives you the platform to achieve your goals.  AYC 30 is a structured and intensive course offering more homework, projects  and mentoring by our Director of Studies. There are 30 lessons a week, or 6 lessons a day, with 2 lessons a day focusing on your preferred choice of Academic English, Fluency, or Work English. It is the ideal course to chart your progress with more frequent tests
allowing you to personalise your course according to your learning objectives. 
Start dates are, unlike all our other courses, every 6 weeks with 4 weeks of semester holidays spread over the year. 
The Academic Year Course is also one of our best value for money courses especially if you also book
ESE accommod
ation at one of our self-catering apartments which are popular with our long-term students from all over the world.
YOU WILL 

✔ Improve your overall level of English
✔ Achieve your learning goals
✔ Follow a structured and intensive course
✔ Expand your vocabulary
✔ Enjoy a flexible learning pathway
✔ Choose a study stream that fits your learning objectives
Starter +
Minimum Intermediate / B1 to join Academic
or Minimum Pre-Intermediate / A2 to join Work Streams
​12 / 18 / 24 / 30 / 36 weeks
Every 6 weeks
04.01.2021 / 15.02.2021 / 29.03.2021 / 10.05.2021 / 28.06.2021 / 09.08.2021 / 27.09.2021 / 08.11.2021 / 03.01.2022 / 14.02.2022
30 lessons/week (22.5 hrs)
You can choose to join the Academic Year Course at any of our 8 entry points throughout the year and follow the programme for 12, 18, 24, 30 or 36 weeks. For students who need to progress for academic reasons onto an exam preparation course (IELTS, TOEFL iBT, TOEIC, CAMBRDIGE) and sit for an exam this course allows you to switch to your required exam preparation course in the last module  of the AYC at no additional cost. There is just one condition for the switch and that is that you need to be at the required level to start the exam prep course which will ensure your success in attaining your required grade. 
Alternatively, you may just want to improve your English level and communicate better for career or personal reasons. If so, then the Fluency or Work Streams are the better options for you.  Please review the chart below for more information.
Academic Year course Flexible Learning Pathway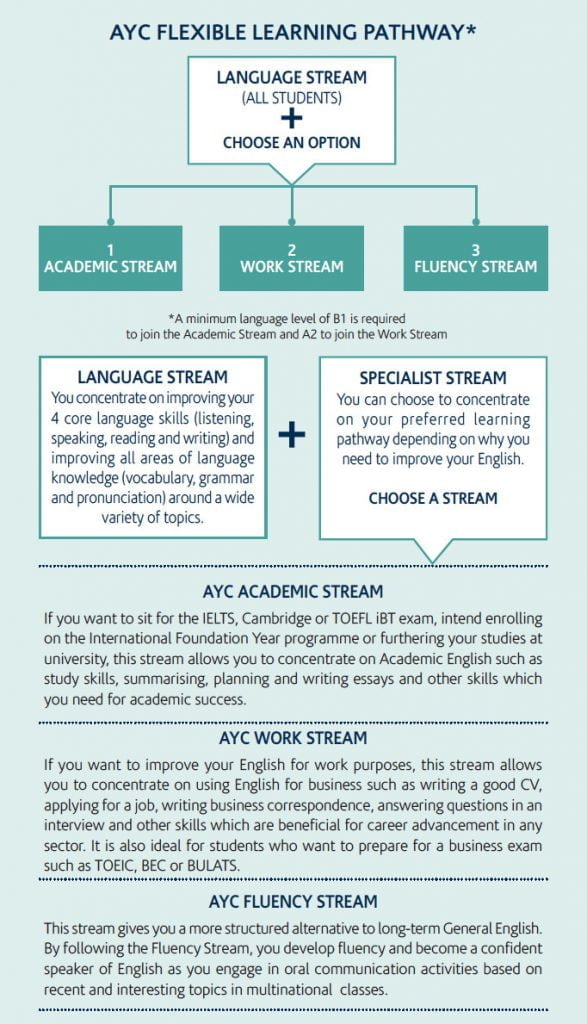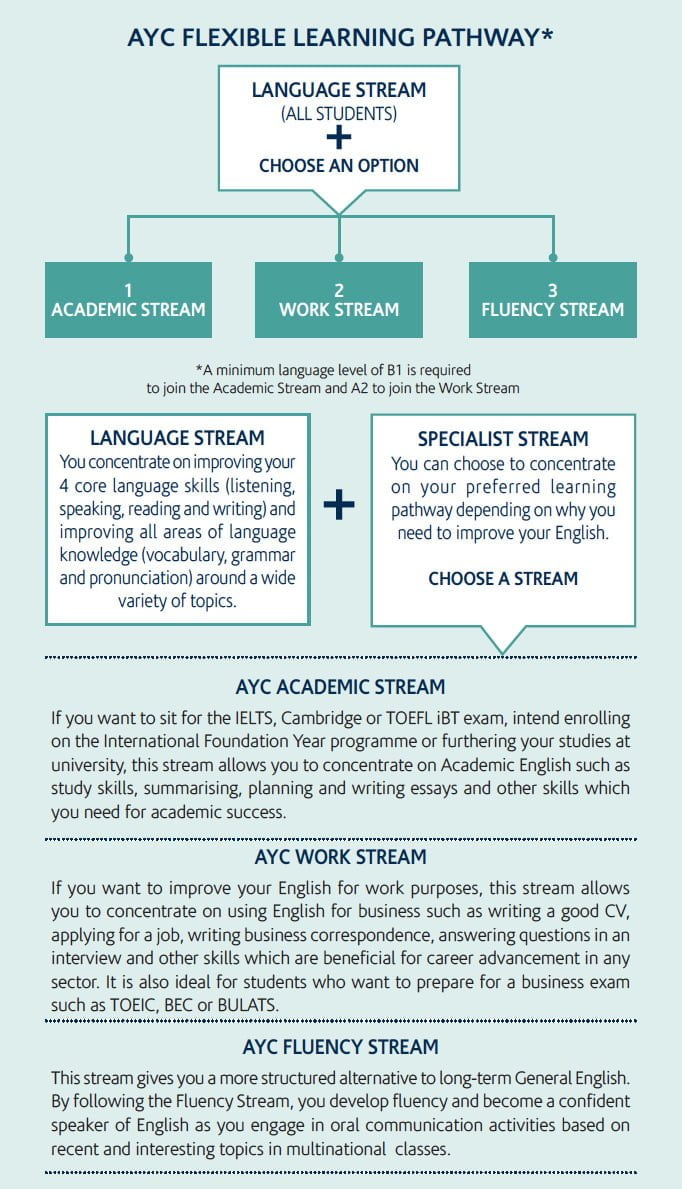 Academic Stream
If you want to sit for the IELTS, Cambridge or TOEFL iBT exam or intend furthering your studies at university, this stream allows you to concentrate on Academic Year and develop important skills such as study skills, summarising, planning and writing essays, paraphrasing, giving presentations and other skills which you need for academic success.
Work Stream
If you want to improve your English for work purposes, this stream allows you to concentrate on using English for business such as writing a good CV, applying for a job, writing business correspondence, answering questions in an interview and other skills which are beneficial for career advancement in any sector. It is also ideal for students who want to prepare for a business exam such as BEC or BULATS.
Fluency Stream
This gives you a more structured alternative to long-term General English. By following the Fluency Stream , you develop fluency and become a confident speaker of English as you engage in oral communication activities based on recent and interesting topics in multinational classes.
Semester Holidays
Depending on your course start date and the duration of your stay, you may have a one or two week break during the course. Package prices which include the Academic Year course and accommodation does not include any accommodation during these semester holidays and a supplement fee may apply.
Semester holidays are the following:
19.06.2021 – 27.06.2021
18.09.2021 – 26.09.2021
18.12.2021 – 02.01.2022

Two Attractive Destinations
Why not combine 12 weeks of Academic Year course in Malta with a few weeks at our sister school English in York in the UK? You can choose to follow a few weeks to General English either before or after your Academic Year course. In this way you will benefit from studying in two attractive destinations in Europe. Visit www.english-in-york.co.uk for more information about our school in York.
About York
Just a two-hour train ride away from London, York is one of England's most beautiful historic and famous cities. It was recently voted the European Tourism City of the Year and it ranked the 4th safest city in the UK in the Complete University Guide's 'How Safe is Your City?' ranking. York is now a thriving student city attracting over 25,000 multinational students every year.
What else is included in your course?
What is your level of English?​
Don't worry – we'll figure that out for you.  
Before arrival you must do the ESE online placement test, which must be submitted at least 7 days before you start your course.  If you do not manage to do your test from home, then you will be will asked to sit for a short placement test on your first day at school.
Our academic staff will ensure that you follow your course at the right language level for you.

Are you interested in this course?