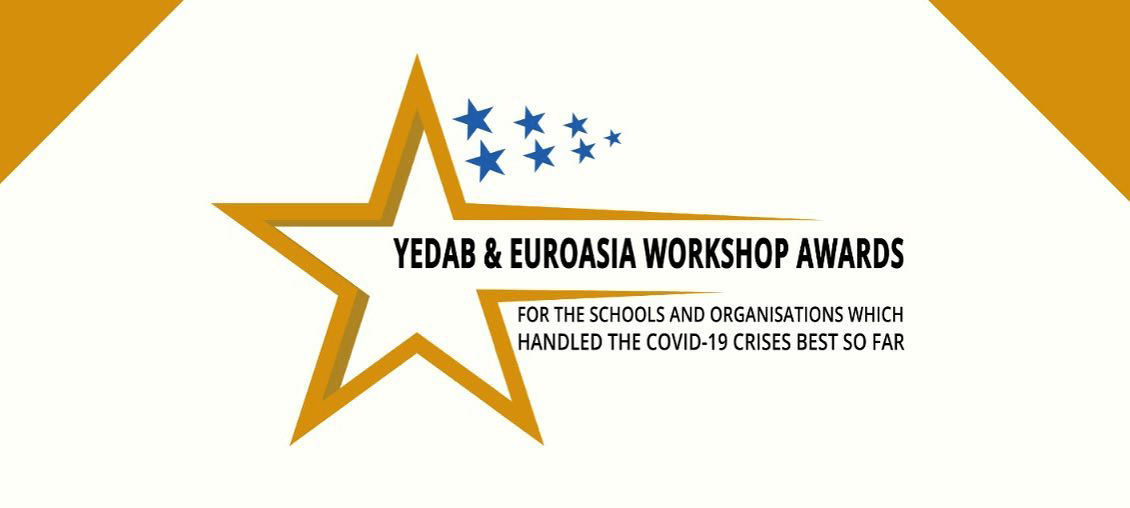 ESE is proud to receive the award from the Yedab & Euroasia workshop for handling the COVID-19 crisis best so far. YEDAB is the Association of Study Abroad Counsellors that was founded in May 2013 with the aim of bringing unity and cooperation to the student recruitment industry. YEDAB has more than 59 Turkish and 158 international members right now and rapidly growing. This award was given to ESE taking into consideration the following criteria:
Schools who treated their students well during the pandemic by the means of professionally assisting those who chose to return to their own country as well as those who opted to remain.
Schools who cooperated closely with their agents both financially and morally.
Schools creating alternative programmes to face to face learning and supporting their agents by means of special promotions
Schools who managed to reopen fast by adopting to all requirements by health authorities and enabling agents new enrolments
Schools who frequently and correctly updated their agents about developments in their respective country.
 ESE has been awarded the UED award: Best English Language School – Malta 2019.  This award recognises the institutions that provide the best services for Turkish students and agents.
We are proud to announce that ESE - European School of English has won the 2015 Certificate of Excellence from EducationStars, Switzerland. The Certificate of Excellence is given to schools that consistently achieve outstanding student reviews on EducationStars.
ESE has been voted by students as the Best Language School in Malta for 2012, 2013, 2014 and 2015. This award is proof of our customers' satisfaction and the fact that they recognise the high standards of all our quality education services. Ranking the school is very easy, just click on the following link: www.educationstars.com
EQUALS - Evaluation and Accreditation of Quality Language Services, is a sign of "Excellence in Language Education". EAQUALS is an international association of providers of language courses and services which aims to promote high quality within the language education field. In order to become an Accredited Member of EAQUALS, each school must undergo a rigorous external inspection to ensure that the school is able to meet the strict criteria laid down in the EAQUALS Charters. The inspection is repeated every three years. Click here to find out more about choosing an EAQUALS accredited school.
IALC, the International Association of Language Centres, is a network of private, independent language schools that specialise in teaching the language of their country. The IALC network includes some of the leading private language centres in the world and is growing steadily. The IALC Quality Scheme and Code of Ethics ensure that IALC schools are among the most professional and successful in their field.
Quality English QE is a quality brand for leading independent and private English language schools. QE English language schools are carefully chosen from the best of independent English language schools and provide high-quality English language training for business, career or leisure. QE schools offer a high degree of personal service and individual attention to their students. QE is run by directors and staff who care about education and the individual needs of their students.
The European School of English is accredited by the Malta Standards Authority.
CEN is a major provider of European Standards and technical specifications. It is the only recognised European organisation according to Directive 98/34/EC for the planning, drafting and adoption of European Standards in all areas of economic activity with the exception of electrotechnology and telecommunication.
 ESE is a certified centre to deliver GESE and ISE exams.
ESE is an accredited partner of NCC offering an International Foundation Year (IFY) that is recognised by over 50 universities in the UK.
ALTO is the premium forum joining leading language travel agents, schools, and national associations and as a member ESE is part of one global community. ALTO provides a global platform for leaders and decision makers within the language travel industry to further develop and grow the industry through networking, professional development, idea and information exchange.
WYSE Travel Confederation is the world's largest network of youth and student travel operators. It is a not-for-profit association dedicated to supporting the global industry and connecting the organisations that serve millions of young people who travel to study, work and grow.
The European School of English is licensed by IATA, the International Air Transport Association which is the trade association of airlines. IATA has 240 members and comprises 84% of the total air traffic. As a licensed member of IATA, ESE can book, confirm and issue tickets from any destination.
ESE is accredited by the National Commission for the Promotion of Equality which is an independent, government funded body set up by virtue of Chapter 456 the Laws of Malta in January 2004. The primary task of NCPE is to monitor the implementation of Equality for men and women Act.
The Commission also works to ensure that Maltese society is a society free from any form of discrimination.